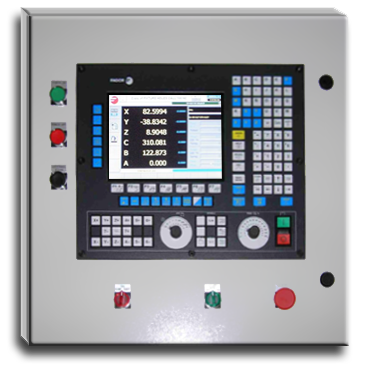 RG Weber Control Systems, Inc. is an Authorized System Integrator (ASI) for
Fagor Automation
,
Fanuc FA America
,
Baldor
, and
DynaPath
.
The Computer Numerical Control (CNC) has been efficiently maximizing machine tool productivity for many years, and it contnues to evolve to keep pace with current technology and automation demands.
However, an older CNC with obsolete components or technology may be significantly reducing your machine's ability to function to its full capacity, adversely impacting not only productivity, but also the corporate profit margin.
RG Weber Control Systems will retrofit your existing machine tool with a state-of-the-art CNC, restoring it to a productivity level equal to or greater than that of the original.
We also offer CNC-integration services to maximize productivity on your new or newly-acquired machine tool.
MACHINE TYPES
Horizontal Boring Mills (HBM)
Vertical Boring Mills (VBM)
Bed Mills
Knee Mills
Punch Presses
Machining Centers (MC)
Turning Centers (TC)
Vertical Turret Lathes (VTL)
Horizontal Lathes
Roll Lathes
Panel Saws
Jig Bores
Hobbers
Grinders
MACHINE MANUFACTURERS
American-Hustler
American Lathe
Anayak
Blanchard
Blaw Knox
Bridgeport
Brown & Sharpe
Burgmaster
Carlton
Cincinnati
Cincinnati-Milacron
DeVlieg-Bullard
Ex-Cell-O
Farrel
Fidia
FPT
Froriep
Giben
Giddings & Lewis (G&L)
Glassline
Gray
Hankook
Harig
Herkules
Hurco
Ingersoll
Ixion
Kearney & Trecker (K&T)
Klingelnberg
Kuraki
Landis
Leblond
Lucas
Mazak
MetlSaw
Mesta
Meuser
Mitek
Mitsubishi
Motch
New Britain
Niles
Nisshinbo
Okamato
Okuma
Oliver
Pensotti
Poreba
Pratt & Whitney
Rambaudi
Star
Thermwood
Toshiba
Toyoda
Tree
Viking
Webster Bennett
CNC MANUFACTURERS
Siemens
Mitsubishi
Heidenhain
Cam-Soft
Anilam
MOTORS / DRIVES MANUFACTURERS
Allen-Bradley
Getty's
Indramat
Kollmorgen
Reliance
Siemens
Toshiba
Yaskawa